TASS Scooter Racing Gallery
TASS ( THANET AREA RACE TEAM -TART) SCOOTER RACING FROM 1986 ONWARDS -
1986 ALL STARTED WITH US, ENTERING IN THE SCOOTER TRIALS RUN BY THE OXFORD ROAD RUNNERS ON A THANET VERMIN SCOOTER CLUB LAMBRETTA -LATER RENAMED TART(s) (THANET AREA SCOOTER RACE TEAM)
1987 WE ENTERED THE FBSC /LASCA BRITISH SCOOTER RACING CHAMPIONSHIP AND DID IT WITH SOME SUCCESS ON A LIMITED BUDGET FOR APPROX 12 YEARS ON OR OFF (mainly off lol!) ..
COMPETING IN VARIOUS CLASSES- FROM GROUP 4 VESPA 200 ,GROUP 5 LAMBRETTA 150 SHORT STROKE ,GROUP 3 LAMBRETTA 150 SHORT STROKE ,GROUP 6 LAMBRETTA TS1230 ,GROUP 7 LAMBRETTA TS1 240/250 CHAIN DRIVE SIDECAR OUTFIT .
1993 AND 94 FBSC BRITISH CHAMPIONSHIP WE FINISHED 4TH ON TASS TUNED LAMBRETTA TS1 240/250 GROUP 7 SIDECAR ..
1990'S WE ALSO HAD A TEAM TASS /EKS SC IN THE SCOOTER GRASS TRACK RACING SERIES IN THE ON A LAMBRETTA TS1 AND 2 LAMBRETTA SIDECAR OUTFITS ... SPONSORING THE LOCAL CLUB EAST KENT SOVEREING SCOOTER CLUB ..
2015 SPRINTING AT THE RAMSGATE SPRINT REVIVAL ON TWO TASS TUNED LAMBRETTAS TS1250 AND TS1230 ....
2017 AGAIN BACK IN THE SADDLE ROAD RACING ,ON BOARD A LAMBRETTA TASS TUNED TS1 230 IN THE SCOOTENOLE EUROPEAN SCOOTER RACE SERIES AT MIRECOURT, FRANCE
2017 TEAM TASS AT THE SCOOTENTOLE MAGNY COURS 10 HOUR SCOOTER ENDURANCE RACE ,FRANCE ,ON TASS TUNED LAMBRETTA TS1225 , OUR FIRST TIME AT THIS TYPE OF EVEN AND AFTER A FEW MISHAPS FINISHED A CREDIBLE 42ND OUT OF 50. AND A TROPHY FOR BEST LAMBRETTA
2018 TEAM TASS AGAIN ENTERED THE MAGNY COURS 10 HOUR ENDURANCE RACE IN FRANCE ON TASS TUNED LAMBRETTA GP TS1230 , FAST AND ULTRA RELIABLE ,BUT DUE TO 2 CRASHES WE FINISHED 38TH OUT 0F 50 .AND ANOTHER TROPHY FOR BEST DISTANT
VARIOUS PICTURES OF TASS RACING FROM 1987 ONWARDS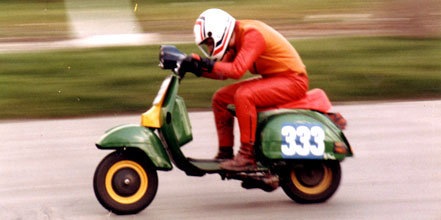 .