About TASS
Welcome to Thanet Area Scooter Services (TASS) established in 1988
Meet TEAM TASS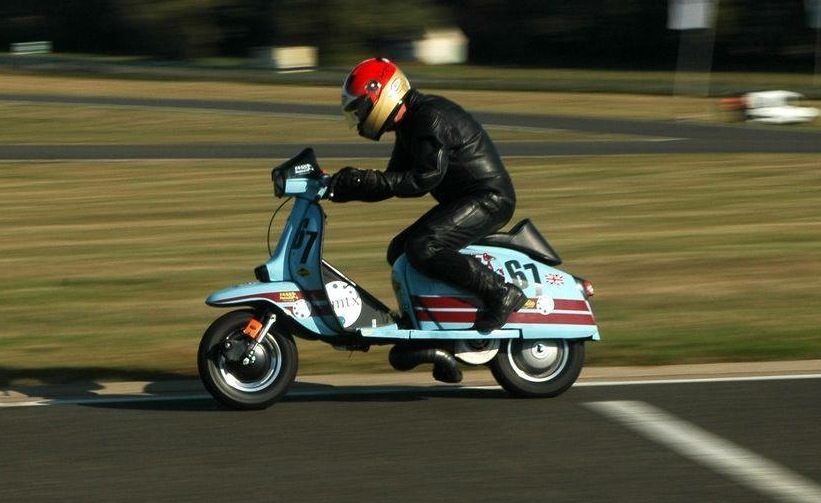 Roger Lucas - Owner / Mechanic / Tuner / Sales /
Roger is a devoted scooterist since 1980 and ex scooter racer and current endurance racer with over 45+years of invaluable scooter experience. He is a fully qualified motor vehicle /motorcycle scooter technician /mechanic, also trained vehicle panel beater fabricator and sprayer. This combination of specialist experience and dedication guarantees customers of TASS a fully comprehensive service from start to finish and Roger is adept with repair, restoration, rebuilding, tuning, servicing, fault finding and of course still racing and riding scooters in the UK and Europe.
Currently rides : LAMBRETTA TS1230 ,LAMBRETTA TS1250,LAMBRETTA LI SERIES 2,
ROB - WORKSHOP /MECHANIC - VESPA
CAROL -ACCOUNTS

Based in Margate, Kent

Our High Street shop is located in Margate, Kent. It's absolutely packed with LAMBRETTA and VESPA parts ,scooters, vintage and modern, parts, accessories, tuning parts, clothing, helmets and gloves.
We also sell New AND USED LAMBRETTA S , VESPA, NEW ROYAL ALLOY -NEW LAMBRETTA SCOOTERS
We are one of the UK's largest stockists of scooter parts and are proud to offer all of the top brands at competitive prices , so you are assured to find what you are looking for. Our range of Top brands include , CASA LAMBRETTA, AF RAYSPEED, MALOSSI, POLINI, MAZZUCHELLI, CUPPINI, ANCILLOTTI, VE, SURFLEX, BGM, MICHELIN, CONTINENTAL, DUNLOP, JL, SIMONINI, SCOOTOPIA ,CASA PERFORMANCE ,MITAS,NGK ,GIANELLI, SIP, BGM,EVERGREEN LAMBRETTA .IT,GORI, CHAMPION, PUTOLINE, SILKOLENE ,DELLORTO,CASTROL and many more.
Fully Equipped Workshop

Our workshop is fully equipped for all your scooter requirements Lambretta and Vespa restorations, rebuilds frame upwards and engine standard to race / fast road tuned, LAMBRETTA frame jig, servicing, welding (tig / mig / gas), machining lathe & milling,cylinder reboring ,fault finding, wiring, 2 stroke carb jetting, pre MOTs for sales & service contact us on: 01843 292440.
Services
With over 45+ years experience repairing/racing/rallying and riding LAMBRETTA AND VESPA SCOOTERS --Yes we actually ride and race scooters !! – TASS is your one stop scooter shop.


We have one of the UK's largest stockists of LAMBRETTA AND VESPA all Top Brand spares, parts, accessories, tuning, clothing and scooters all in our high street shop come and make a visit to sunny Margate.
Servicing - We have a fully equipped workshop to carry out all types repairs, general servicing, fault finding, wiring,carb set up, rebuilds.
Restoration - We carry out 1st class award winning restorations - road use spec to concours. We fully restore on average 20-30 LAMBRETTA and VESPA scooters a year. We pride ourselves on Quality !
SEE OUR FACE BOOK PAGE FOR THE UPTO DATE LAMBRETTA AND VESPA RESTORATIONS AND TUNING WORK
https://www.facebook.com/Thanet-Area-Scooter-Services-TASS-107638409319961/
Lambretta and Vespa Standard Engine Rebuilds FROM - standard to fast road to race spec
Tuning - Cylinder porting, engine casing porting

Carbjetting - We have over 40 + years of knowledge to know what jetting and carb set ups to use so that your engine runs as it should
Rebores and Barrel Honing FROM £36.00 +VAT -.
C

rank rebuilds strip retrue and rebalance

MOTS - arranged and pre MOT Check over and assessments
Helicoiling, Welding Steel /AlloyTIG MIG ARC, polishing, panel beating, blasting, & powder coating
…WE DO THE LOT !!
Opening Times
Mon - Fri 9.00am - 4.30 pm Closed for lunch 1 -1.30
Sat 9.00 am till 1pm
SCOOTERS.TASS@GMAIL.COM
LAMBRETTA CLUB OF GREAT BRITAIN SUPER DEALER -- VESPA CLUB OF BRITAIN DEALER-